Our School Namesake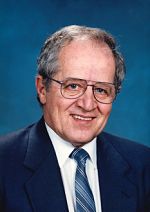 ‌
Svend Hansen
Svend Hansen worked for Edmonton Public Schools for more than 40 years as a teacher, principal, consultant and trustee. As a young man, Mr. Hansen planned to study dentistry but shifted to education after his wife, also a teacher, and her father convinced him to pursue a teaching career.
Mr. Hansen taught at Fulton Place, Hardisty, Parkdale and Garneau schools and believed in striving for success with every student. He supported programs that brought students together, and even assigned kids to group projects as a disciplinary tool rather than using detentions.
The father of four served as principal at Queen Mary Park, Kenilworth and Dan Knott schools, was generous with words of encouragement for students and staff, and always urged his staff to speak up during meetings. In the 1970s, Hansen founded the Public School Administrators Association, which brought principals together for professional development.
Mr. Hansen retired in 1991, but then returned to the District as a school trustee from 1998–2007, also serving as the board's chairman and vice-chairman. He also served on the board for Friends of University Hospitals, including three years as chairman.